Season 4



Recording

Early 2013
May 3, 2013 (Ends)

Number of Episodes

13

Premiere Ep.

Finale Ep.

This article needs some clean up, please help by editing it and making it better thanks!
On August 6, 2012, Nickelodeon renewed Big Time Rush for a 13-episode fourth season. Production started on January 7, 2013.
On May 6, 2013, Nickelodeon announced that Season 4 will be the final season.[1]
Marjorie Cohn, Nickelodeon's president of original programming and development, had to say about "Big Time Rush" season 4:
"Our viewers continue to love the stories, music and comedic misadventures of Kendall, James, Carlos and Logan. Their authentic friendship and brotherhood connects them to each other and their audience, both on camera and when performing in front of thousands of screaming fans."
Possible Finale
In the show, the guys are 18, and this may be the final season which may explain if the guys will continue their careers as pop star or will they go their separate ways:
James becoming a model, solo artist or actor
Kendall becoming a hockey superstar.
Carlos becoming a superhero (maybe a hockey superstar).
Also in Big Time Concert, Griffin offered Gustavo and BTR a 3 year contract after he fired them. This contract may end soon as 2 years already passed.
On Twitter, Kendall Schmidt confrimed that Big Time Rush is not ending just yet.
Summer Break Tour
Main article: Summer Break Tour
It is believed that after BTR finishes recording the 13 episodes for Season 4, the guys will go on a world tour to promote their 3rd album, 
24/Seven
and maybe their last season of the show.
Kendall tweeted/anounced that in 2013 the guys will have a world tour.
On March 29, 2013, Victoria Justice and Big Time Rush announced that they are going on tour together. The name of the tour is Summer Break Tour. While the tour is only in the USA, it's still possible that the guys will add more days to the tour as they want to tour Europe and South America. 
Big Time Movie 2
James has said in an interview that if Nickelodeon lets them, he and the guys will love to do a second Big Time Rush movie, Big Time Movie 2, he then said, "Maybe with a more creative name."
Kendall talks about making a sequel to Big Time Movie on CleverTV.
On the 2013 MTV Movie Awards, James and Carlos also talked about them wanting to make Big Time Movie 2.
Crossover Episode
Big Time Rush guest starred in a Marvin Marvin special one-hour event called "Big Time Marvin ". They performed "Big Time Rush", "Show Me ", and "Halfway There". The special aired on April 27, 2013, and recieved 2.2 million US viewers. 
Future Status
David Cade (Jett Stetson) revealed in an interview with Tracy Stumpf from RealTVfilms Social Lodge that Season 4 maybe the last season for Big Time Rush.
On April 8, 2013, Adam Paul, cast member of the show, tweeted that if the ratings are good for Season 4, Nickelodeon will bring BTR back for another season.
In an Ok! Magazine interview, James was asked about Season 5.
Ok!: Come on season five!
JM: Season five would be cool but I'm more excited about transitioning into film or something a little more mature after this.
On May 9, 2013, Carlos revealed that the set of BTR has been dismantled.[2][3][4]
In an interview with James and then later Kendall, they said that if the fans wanted a 5th Season then they will film it. Kendall stated that he had a feeling they would come back after they wrapped the 4th Season.[5]
Carlos, The Director and Carlos Cam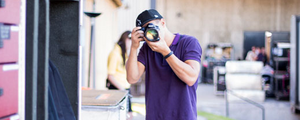 Carlos Pena Jr. will direct his first episode this season. "Scott Fellows, our creator, [said] he's gonna let me direct one episode this season, so I'm super excited," Carlos gushed.[1]
Carlos is directing episode 411, Big Time Tour Bus with special guest star Victoria Justice.
Pena is producing "
On the Road with BTR
," a docu-reality series giving kids an inside look into the lives of Big Time Rush.
[2]
Returning Guest Stars & Special Guest
Trivia
On Interviews, Kendall has given hints about a fourth season as well as Carlos.
Kendall said that they will finish making Season  4 by April or May and then go on tour.  Kendall on Cambio
Gallery
Video Gallery
References
Community content is available under
CC-BY-SA
unless otherwise noted.