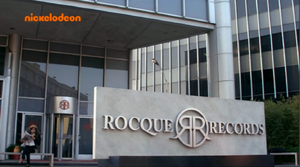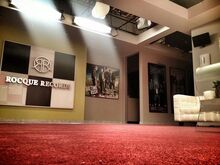 Rocqué Records
is the record company owned by
Gustavo Rocqué
in which several performers have had record deals with although few have been successful. The record company is most famous for having a record deal with the pop-rock boy band
Big Time Rush
.
Jordin Sparks
and
Snoop Dogg
 have also both released duets with Big Time Rush under Rocqué Records.
Rocque Records is the fictional record company owned by RCMCBT Global Net Sanyoid Corporation Big Time Rush's label and the workplace of Gustavo Rocqué and his assistant Kelly. It is supplied with songwriting and recording equipment and either Gustavo or the boys are seen producing there. It is the second most used setting of Big Time Rush stories. Names that worked with Rocqué Records include Jordin Sparks and Nicole Scherzinger while its rival company is named Hawk Records. Rocque Records places include Gustavo's office the bathroom and the recording studios (A and B).
Employees
Gustavo Rocqué - Gustavo owns Rocqué Records. He not only produces Rocqué Records' songs but also writes almost all of them.
Kelly Wainwright - Kelly is Gustavo's assistant.
Arthur Griffin - Griffin is Gustavo's boss. He is a billionaire record producer and has the most authority at Rocqué Records.
Mercedes Griffin - Mercedes is the daughter of Arthur Griffin. She helps pick out the best demo out of a selection of demos to see which artist or group out of the demos is the best. Whoever she chooses gets their own record deal with Rocqué Records.
Rivals of Rocqué Records
There is only one rivalry of Rocqué Records and that is Hawk Records. The owner George Hawk is successful but often tries to be better than Gustavo. His attempts to be better rarely work. His most infamous attempt to be better than Rocque Records is when he unsuccessfully tries to lure Jordin Sparks away from Rocqué Records and over to Hawk Records by releasing a skunk in the building. However Big Time Rush captures the skunk and sticks it in Hawk's limo he is sprayed by it afterward.
Gallery
Community content is available under
CC-BY-SA
unless otherwise noted.