This article needs some clean up, please help by editing it and making it better thanks!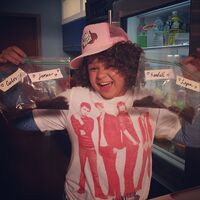 Rachel Crow (born January 21 1998) is an American singer. actress. and comedienne. Crow participated in the first season of the U.S. version of The X Factor in 2011 and she finished in 5th place overall. After being eliminated from The X Factor Crow met with Disney for possible roles in future Disney productions. She's appeared on many TV shows including Brain Surge. Inside Edition. and The Wendy Williams Show. Right now she has a role in Fred: The Show as Starr.
Early life
Rachel Crow was born and raised in Mead Colorado on January 21 1998. Due to her biological mother suffering a
, Crow was fostered as a young baby to Barbara and Kelly Crow and was later adopted by the Crow family. Even though Kelly Crow suffers from multiple sclerosis they also adopted Rachel's younger sister Hannah.
Crow sang her first song (Faith Hill's "Breathe") at 18 months-old and first performed in public at age six as part of her school's talent show. Her parents brought her to Los Angeles in 2010 to support her dream of being a performer and she auditioned at age 13 for The X Factor in early 2011. After being chosen as a contestant out of over 100,000 people who auditioned for season 1 of The X Factor (USA) she wowed audiences with her powerful voice and bubbly personality and placed fifth in the competition for the season. A fan favorite and darling among the judges L.A. Reid deemed her a "funky feisty singer with soul" with Simon Cowell declaring that audiences would be "hearing a lot more about her."
Career
Music career
2011: The X Factor
Crow auditioned for season 1 of the US The X Factor in Los Angeles California in front of Simon Cowell. Paula Abdul. Cheryl Cole. and L.A. Reid. She was the 1st person auditioning in front of the judges. She sang "Mercy" by Duffy and she made it all the way to the live shows. She made it to the top 5 but after the judges votes were deadlocked Crow was eliminated by the public. Immediately after the results were revealed Crow collapsed onstage and cried inconsolably. Nicole Scherzinger the judge responsible for sending the vote to deadlock was visibly upset by the result. When Steve Jones asked Scherzinger if she had anything to say she shook her head and turned away and she was booed by the audience for taking the vote to deadlock.
Performances on The X Factor
Episode
Theme
Order
Song
Original artist
Result
Audition
Auditioner's Choice
rowspan="5" n/a
"Mercy"
Duffy
Through to Bootcamp
Bootcamp 1
Group Performance 1
"Run to You"
Whitney Houston
Advanced
Bootcamp 2
Group Performance 2
"I Have Nothing"
Whitney Houston
Advanced
Bootcamp 3
Solo Performance
"If I Were a Boy"
Beyoncé Knowles
Through to Judges' Houses
Judges' houses
Free Choice
"I Want It That Way"
Backstreet Boys
Through to Live Shows
Week 1
14
"Baby"/"Where Did Our Love Go"
Justin Bieber / The Supremes
Saved by Simon Cowell
Week 2
Judge's Choice
4
"Walking on Sunshine"
Katrina and the Waves
Safe
Week 3
Songs from movies
11
"I'd Rather Go Blind"
Etta James
Safe
Week 4
Rock
2
"(I Can't Get No) Satisfaction"
The Rolling Stones
Safe
Week 5
Giving Thanks
1
"I Believe"
Yolanda Adams
Safe
Week 6
Songs by Michael Jackson
4
"Can You Feel It"
The Jacksons 5
Safe
Week 7
Dance music hits
3
"Nothin' on You"
B.o.B / Bruno Mars
Bottom two
Save me songs
8
"Music and Me"
Michael Jackson
Final Showdown (Week 7)
Free Choice
2
"I'd Rather Go Blind"
Etta James
Eliminated by Deadlock
2012: Post X Factor
It was announced that Crow signed a music deal with Columbia Records and a TV deal with Nickelodeon for her own TV show. She will also be featured on Big Time Rush's Big Time Rush Summer Tour 2012 along with Cody Simpson. She also guest stared on a two-part episode of Fred The Show.
"Finish your rapping!"
This article is a stub. You can help the Big Time Rush Wiki By expanding it! Thanks!!
Community content is available under
CC-BY-SA
unless otherwise noted.