"Love Me Love Me" is a song by Big Time Rush from their second studio album, Elevate. Kendall Schmidt, James Maslow, Carlos PenaVega, and Logan Henderson co-wrote the song with songwriters Mich Hansen, Kasper Larson, Ole Broderson, Chris Rojas, and Damon Sharpe. It was produced by Rojas, Sharpe, Cutfather, and KayNdustry.
Composition
"Love Me Love Me" was written and recorded on Big Time Rush's tour bus while they were on their first headlining tour, Big Time Rush in Concert. Sony Music provided the band with a bus featuring a built-in recording studio, allowing them to write and create new music while on the road.[2] According to Carlos PenaVega, the band was working on the bus with producers Damon Sharpe and Chris Rojas when Sharpe presented a "crazy" dance track he had created.[3] BTR began writing lyrics and melodies to the track, whick took "only about three or four days."[3] The band said that, lyrically, they "went a little stranger" and "quirkier" than usual, directly referencing fictional brand character Betty Crocker's "red velvet lips", as well as famous singer Michael Jackson's 1983 single "Thriller", with Kendall Schmidt joking that they invented the use of "thriller" as an adjective, in the phrase "she thriller tonight."[3] James Maslow described feeling, "we were just joking around and thought, 'Hey wait, this is actually good.'"[4] On choosing to include the song on the band's second album, Elevate, Schmidt recalled thinking, "We had decided that people were either going to love it or think it was the worst thing ever created, and we were willing to take that chance." They have since described the song as "a band favorite".
Release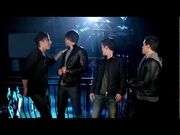 The song appears as the sixth track on Big Time Rush's second full-length studio album, Elevate, released on November 21, 2011. Ahead of the album release, "Love Me Love Me" was featured in a promotional television commercial for a sweepstakes collaboration between Big Time Rush and the candy product Airheads. The commercial depicts BTR taking stage to perform, but having just eaten AirHeads candy beforehand, they find their mouths stuck and unable to sing. The quick-thinking AirHeads balloon pulls a lever behind the stage, and the band launches into a performance of "Love Me Love Me".[5] A brief snippet was also featured in the television special Big Time Rush: Music Sounds Better with U television special, which also gives a tour of the bus in which the song was created.
In Big Time Rush, "Love Me Love Me" was one of the song the boys perform during their concert in "Backstage Rush", the first episode of the show's third season. Later, in the episode "Big Time Returns", Griffin and Gustavo pressure Carlos into choosing a new single for the band, with Griffin wanting "Love Me Love Me" and Gustavo wanting "Elevate". Frustrated, Carlos decides to pick a completely new song, "Windows Down".
Live performances
In live performances on the Better with U Tour and Big Time Summer Tour, Big Time Rush's performance of "Love Me Love Me" features an extended dance breakdown during the song's bridge.
Credits and personnel
Credits transcribed from the liner notes of Elevate.[6]
Written by Mich Hansen, Kasper Larson, Ole Brodersen, Christopher Rojas, Damon Sharpe, Kendall Schmidt, James Maslow, Carlos Pena, and Logan Henderson
Produced by Cutfather, Chris Rojas, Damon Sharpe, and KayNdustry
Mixed by Serban Ghenea
Engineered for Mix by John Hanes
Lyrics
Jaw drop, heart stops, we eye lock
I must be dreamin', don't hit the alarm clock
Under the lights, comin' alive, she's "thriller" tonight
Once dance - two dance - is not enough
You got that glow in the dark, so I'm not giving up
I'm reading your mind
You know I'm a psychic
Why you tryin' to hide it, hide it?

Love me, love me, say you're gonna love me
I know you're ready to go
Love me, love me, say you're gonna love me
Don't leave me out on the floor
I'm saying whoa, don't tell me 'no'
Love me, love me, say you're gonna love me
I-I-I-I'm ready to go
I'm ready to go

Love me love me
Love me love me
Love me love me

Can't stop, won't stop, we party rock
You got them red velvet lips, sweet like Betty Crocker
So call the doctor
'Cause someone needs to take your temperature, you're getting hotter
Under the lights, comin' alive, she thrilla tonight
I'm reading your mind
You know I'm a psychic
Why u tryin' to hide it, hide it?

'Cause when I rock, you roll
You're losing control
And if you got that feeling
Throw your hands up in the air

Love me, love me, say you're gonna love me
I know you're ready to go
Love me, love me, say you're gonna love me
Don't leave me out on the floor
I'm saying whoa, don't tell me 'no'
Love me, love me, say you're gonna love me
I-I-I-I'm ready to go
I'm ready to go

You be Juliet, I'll be Romeo
Whatcha' waiting for, you know u wanna go
Don't say goodbye, 'cause we just said hello
Say you're gonna love me girl, 'cause I need to know

Love me, love me, say you're gonna love me
I know you're ready to go
Love me, love me, say you're gonna love me
Don't leave me out on the floor
I'm saying whoa, don't tell me 'no'
Love me, love me, say you're gonna love me
I-I-I-I'm ready to go
I'm ready to go

Love me love me
Love me love me
Love me love me
I'm ready to go
References