Jean-Luc Varn Darn
General Information
Gender:
Male
Age:
Unknown, possibly in his 30s/40s
Hair Color:
Brown
Eye Color:
Brown
Birthday:
Unknown
Height:
> 6 Feet
Weight:
> 250 Lbs
Address:
Unknown
Occupation(s):
Actor, Activist
Family & Friends
Friends:
Belgium
Enemies:
Gustavo Rocqué
Other Information
Interests:
Acting, Destroying Enemies
Talent:
Immense Strength, Immune to Biscuits
Weaknesses:
Quick to Judge Others
Series Information
First appearance:
Big Time Blogger
Last appearance:
Big Time Blogger
Portrayed By:
Reece Kirk
Jean-Luc Varn Darn
is a very buff and violent Hollywood action star of Belgian descent. He is determined to end the life of
Gustavo Rocque
after he stated he hated Brussels on
Scuttlebutter
. Ultimately, Jean successfully launched an assault upon
Rocque Records
. However, unfortunately for Varn Darn,
Gustavo
would survive.
Personality
Varn Darn cares deeply about defending the honor of Belgium. He is quick to anger, especially when people make pretend they are eating Belgian waffles when, in reality, they are eating frozen toaster waffles. When enraged, Jean-Luc Varn Darn will not hesitate to destroy a nearby news reporter on live television and send Gustavo death threats (while destroying nearby signs).
While most fans agree Varn Darn was not morally justified at all in his pursuit of revenge due to a typo, many believe he is partially good due to his attempts to kill Gustavo. This has lead many to classify Varn Darn as an anti-hero.
Background
Prior to becoming a murderer, Jean was a Hollywood action star and a household name. In Big Time Blogger, this all changed. Jean was shocked to find Gustavo Rocqué had left incredibly racist comments regarding Belgium on his preferred social media platform, Scuttlebutter. At this point, Varn Darn decided killing Gustavo would be the most suitable way to assure such comments would not be made again. Prior to his attempted murder of Gustavo, Varn Darn Stated: "Gustavo Rocque. You have insulted Belgium for the last time."
Abilities
Strength And Durability:
Jean-Luc Varn Darn is incredibly strong, being capable of decimating the back door of Rocqué Records with his bare hands. Varn Darn demonstrated similar strength when he swiftly knocked over a news reporter with a single swipe. The news reporter continued to remain on the ground and never got up during the rest of the broadcast, likely meaning he died. After this, a bum bumm sound effect played while Varn Darn made a menacing gesture. Naturally, Varn Darn was capable of bringing Gustavo to the brink of death offscreen.
Varn Darn is incredibly durable too, managing to survive the attacks of the incredibly powerful Mr. Fong. Fong, who was capable of defeating all of Big Time Rush with a mere basket of biscuits, could not do so much as leave a scratch on Varn Darn, only enraging him. It is unclear, however, if this feat of durability is due to Varn Darn's immense defenses or specifically due to his immunity to biscuits.
Varn Darn's abilities are largely linked to his mood. (for more information see locations that make jean-luc varn darn angry)
Intelligence and Keen Senses:
Jean-Luc Varn Darn has incredibly high intelligence, though his ability to apply his intelligence is quite context-dependent. Varn Darn, a relentless defender of Belgian pride, immediately found Gustavo's racist post in spite of Gustavo's account being entirely new and quickly located Rocque Records, demonstrating an ability to parse intel comparable to CIA agents such as Jo's father.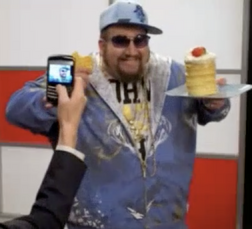 Varn Darn also demonstrated powerful sensory abilities and was immediately able to distinguish Gustavo's waffles from frozen toaster waffles in spite of the fact that the image was taken on a blackberry camera.
However, Varn Darn's intelligence does not apply to all contexts. For instance, Varn Darn threw multiple Belgian waffles at Gustavo and left him on the brink of death instead of killing him.
Matter Manipulation:
In spite of the fact that he was not holding any Belgian waffles, Varn Darn showed he had the ability to materialize waffles out of thin air, which he later used as weapons.
Relationships
The Jennifers:
Varn Darn does not know The Jennifers
Quotes
guSTAVO!!!! I am COMING FOR YOU!!!!!!!
Gustavo Rocque. You have insulted Belgium. For the last time.
These aren't Belgian waffles. These are frozen toaster waffles. heeyeAA
Community content is available under
CC-BY-SA
unless otherwise noted.