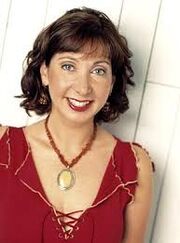 This article needs some clean up, please help by editing it and making it better thanks!
Holly Wortell
(born December 19 1964) is an American comedic actress and longtime friend of Bonnie Hunt. She has been a regular on each of Hunt's sitcoms (The Building. The Bonnie Hunt Show. and Life With Bonnie), all three times playing a vain promiscuous character named "Holly". In addition she has had supporting or bit parts in several feature films in which Hunt has appeared (Beethoven Beethoven's 2nd, and Return to Me). Her few non-Bonnie-related roles include guest spots on Curb Your Enthusiasm and Entourage and a national advertising campaign for Kraft Macaroni & Cheese.
Wortell met Hunt in the mid-80's Chicago improvisational comedy scene where they formed a three woman comedy troupe called "An Impulsive Thing" with Joan Cusack. Wortell also joined the cast of The Second City mainstage in 1989 (the same year as Chris Farley and Tim Meadows) headlining for several seasons.
As of the fall of 2006 Wortell is teaching improv classes at The Second City Los Angeles.
In the summer of 2008 Wortell appeared in a series of teasers for Bonnie Hunt's upcoming daytime talk show.
In the spring of 2011 she guest starred as Logan Mitchell's mother in Nickelodeon's Big Time Rush.
External links
"Finish your rapping!"
This article is a stub. You can help the Big Time Rush Wiki By expanding it! Thanks!!
Community content is available under
CC-BY-SA
unless otherwise noted.