This article needs some clean up, please help by editing it and making it better thanks!
Dustin Belt



Birth Name

Dustin Earl Belt

Born

December 3rd, 1987 (Age 31)

Wichita, Kansas, U.S.

Occupations

Singer, Actor, Songwriter

Instruments

Vocals, Guitar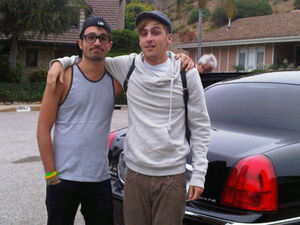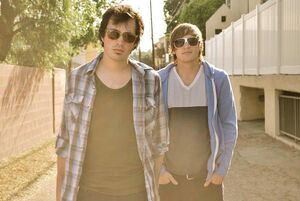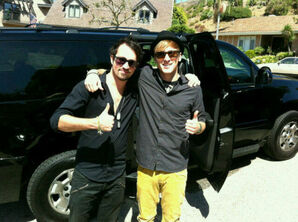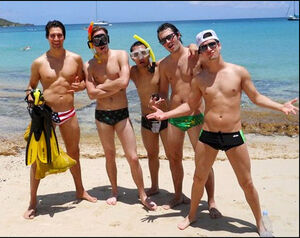 Dustin Belt (born Dec 3, 1987) is the guitar player for Big Time Rush. He is also co-founder of the band Heffron Drive. Fans and Rushers have name him the fifth member of Big Time Rush. He is Kendall Schmidt's best friend and when Kendall is not in the studio or hanging with Carlos, James or Logan he is hanging with Dustin. Dustin have become really good friends with the cast of BTR and all of them can be seeing hanging before and after a signing or concert.
Heffron Drive
A band that consits of Kendall Schmidt and Dustin Belt. They are an Electro/Pop/Alternative band, currently located in California. Kendall performs vocals and guitar, while Dustin performs backing vocals and guitar. The duo have both write songs, and have uploaded recordings of their songs onto K3ndallSchmidt.
Heffron Drive's music is also avaliable on their Myspace. Their Tumblr also has information about the band, and they have a Twitter account.
Big Time Rush
He is the guitarist in Big Time Rush and he traveled with the band on tour. Carlos, Logan and James have become close friends with Dustin as they have been seen in the beach hanging out or joking around in the tour bus. In The BTR Music Sounds Better With U Special, he can be seeing playing against BTR in the battle with the toy guns. He also performed with BTR on Ellen playing their new hit Music Sounds Better With U. He has become so famous with the Rushers that they have name him the fifth member of BTR.
Trivia
Current Age: 31
Height: 5' 9
Professions: Actor, Singer, Songwriter
Years Active: 2008 - Present
Nickname: D-Belt
Dustin loves Bacon
Dustin Belt has his own YouTube Channel, [1]]
He appeared on "An Angel Named Billy", playing Billy.
Twitter Feed
See Also
"Finish your rapping!"
This article is a stub. You can help the Big Time Rush Wiki By expanding it! Thanks!!
Community content is available under
CC-BY-SA
unless otherwise noted.