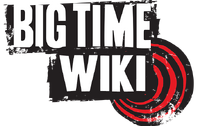 Gotta live it Big Time!


The series stars Kendall Schmidt as Kendall Knight , James Maslow as James Diamond , Carlos Pena Jr. as Carlos Garcia, and Logan Henderson as Logan Mitchell. They get a chance to become the newest pop sensation, the opportunity to be the boy band called Big Time Rush. The series navigates through all of their antics, conflicts, and schemes living in Los Angeles. The program began airing on YTV on September 6, 2010. The series co-stars Ciara Bravo, Tanya Chisholm, and Stephen Kramer Glickman. The series is taped in Los Angeles, California, and was created by Scott Fellows.

They move to Los Angeles, California, where they live at the Palmwoods Hotel and attend the Palmwoods School, a special school just for actors, actresses, singers, and other performers. The boys routinely come into conflict with their overbearing, outrageous, hard-driving (but successful) producer, Gustavo Rocque (Stephen Kramer Glickman), and his well-meaning assistant, Kelly Wainwright (Tanya Chisholm), while trying to impress Gustavo's boss, Arthur Griffin (Matt Riedy), so that they can become successful. The boys also frequently come into conflict with Mr. Bitters (David Anthony Higgins), the Palmwoods hotel manager Read more..
Carlos Garcia, who is known for mostly wearing his hockey helmet all the time. Though, according to Kendall, he isn't very tough without it. He is portrayed by Carlos Pena Jr.

Excitable and fun loving, Carlos loves anything having to do with fun and enjoys very childish activities (such as going down a swirly slide). He is the youngest, shortest, and most immature of the group.read more

 

Big Time Dreams, also known as Big Time Awards Show, is the last episode of Season 4 of Big Time Rush.

The guys are invited to the 24th Tween Choice Awards, where the boy banders are nominated and booked to close the show. But before the foursome can take the stage, they uncover an evil plot to brainwash everyone in the audience. So BTR have to take down the bad guys and make sure the show rolls on as scheduled.

Special Guest Stars: Austin Mahone as himself, Mindless Behavior as themselves, Nick Cannon as himself, Karmin as themselves, Alexa Vega as herself. Read more
Kenlos is the friendship/bromance pairing of Kendall Schmidt (youngest member) and Carlos Pena Jr. (oldest member) from Big Time Rush. In the show, they are best friends, as they are always teaming up like in Big Time Songwriters, in which James said that Carlos always takes Kendall's side. Also it has been seen that Kendall has helped Carlos multiple times in the show, and it shows that they cared for each other.

In real life, they are also close best friends and shown to be more like brothers. Carlos and Kendall are opposites when it comes to being clean, as Carlos is organized while Kendall is not, but Carlos has said that he keeps Kendall's area clean and organized, and Kendall said that Carlos is always there for him.Read more

 

We Are is a track written by Jeff Halavacs, Francisca Hall, Kendall Schmidt & Logan Henderson for third album, 24/Seven. The song was featured in Big Time Rush's Season 4 Finale, Big Time Dreams.

We have a three way tie! Bat Forever, ArianaGrandeForever and Tbayleyt are this month's featured users. Congrats! Be sure to check out their page and leave them a message.

To write a new article, just enter the title in the box below.
@Big Time Rush Twitter Feed

Click here to Vote for Featured Articles!
All Blogs
Recent Blog Posts
I've watched the show ever since I was in middle school. Even up to now, the albums are very good. What I wish is that they expanded the first and se…
Hiya! I'm Izzy, nice to meet you! 
I really like the Nickelodeon series Victorious, and I am a Bat (Cat and Beck) shipper! I just think that they are …
See more >