Big Time Rush is a Nickelodeon TV show about a group of teenage guys who unexpectedly get a chance to pursue stardom together in the music industry. Big Time Rush (also known as BTR) is a band in real life and in the show. Big Time Rush is an American boy band formed in Los Angeles California in 2009. The band consists of members Kendall Schmidt James Maslow Carlos Pena Jr. and Logan Henderson. The band released its debut album BTR in October 2010 and a second studio album Elevate was released on November 21 2011.
Big Time Rush (Real Life)
2009-2010: Beginnings and BTR
Big Time Rush signed a record deal in 2009 simultaneously with the television series Big Time Rush. Their debut single "Big Time Rush" was released on November 29 2009. It debuted during a one-hour special preview of the series and it is currently the show's opening theme. The series also saw the releases of other promotional singles including "City Is Ours" and "Any Kind of Guy". Big Time Rush also covered a Play song titled "Famous". The song was released on iTunes on June 29 2010. Another song "Halfway There" was released to iTunes on April 27 2010 after its premiere on the series. The single has become their first to chart on the Billboard Hot 100, peaking at number 93 due to strong digital sales. On September 21 2010 Big Time Rush released a promotional single "Til' I Forget About You" to promote the release of their debut album. The album titled B.T.R. was released on October 11 2010. It debuted at number 3 on the Billboard 200 selling 67,000 copies in its first week of release. The album also peaked at number 4 on the "Top Internet Albums" and number one on "Top Soundtracks". Its track "Big Night" debuted on the Billboard Hot 100 at number 79 making it their highest peaking single. The album was later certified Gold for shipments of 500,000 copies in the U.S. and has currently sold over 900,000 copies worldwide. In November 2010 it was announced that a Christmas special of Big Time Rush would debut later that month and that a Christmas EP would be released to coincide with the episode. The EP titled Holiday Bundle was released on November 30 2010. They covered All I Want For Christmas Is You originally performed by Mariah Carey with fellow Nickelodeon star Miranda Cosgrove. On February 15 2011 "Boyfriend" was released as the band's first official single to mainstream US radio. "Boyfriend" peaked at number seventy-two on the Billboard Hot 100 becoming their most successful song to date. It peaked at number 30 on the Billboard Pop Songs chart in March 2011. A remix of "Boyfriend" which featured New Boyz was leaked onto the internet. Big Time Rush was Nominated For MTV's Breakthrough Band award Honor in 2011 As Well.
2011-2012: Elevate & 2012 Touring
On July 22 2011 the band released a promotional single "If I Ruled The World" featuring Iyaz off their second album Elevate released on November 21 2011. The first single "Music Sounds Better With U" written by the band and Ryan Tedder from OneRepublic it was released on November 1 2011. Elevate debuted at number 12 on the Billboard 200 for selling over 70,000 copies in its first week. According to Forbes.com Big Time Rush has amassed a net worth of about $8 million dollars in 2011 making them one of the youngest top earners of that year. Shortly before the release of the Elevate the band announced a national tour.
The Better With U Tour starting in February 2012 which counts with sixteen dates. Several dates sold out within minutes of the announcement. British-Irish boy band One Direction will be touring with Big Time Rush for 10 out of sixteen dates.
Big Time Rush has announced a summer national tour starting July 5 at the Nationwide Arena in Columbus OH and ending September 18 at the Rose Garden Arena in Portland OR. Cody Simpson and Rachel Crow will be opening up for Big Time Rush. The dates for California sold out within minutes.
Big Time Rush is currently filming the third season of "Big Time Rush". The group is currently writing new songs for the 3rd season of their show in addition for their 3rd album which is expected to be released in late 2012 or early 2013.
2012-present: Film debut and 24/Seven
The band announced they would be starring in their full-length 2012 film Big Time Movie. The movie features them travelling to London England. In Big Time Movie the four members of the band Big Time Rush head to London for their first big world tour but instead get mixed up in a mission to save the world. The film was released on 10 March 2012 in the US while a Germany release was on 22 September 2012.[1] Due to the promotion the group recorded a cover of The Beatles songs and released an EP Big Time Movie Soundtrack EP.[2] However the film received mixed to positive reviews from most contemporary film critics many comparing them to The Monkees but praising their fun, carefree image.[3][4] However the film was a commercial success having over 13 million views in a week.[5]
On March 31 2012 Big Time Rush released a music video for the song Time Of Our Life with other Nickelodeon stars including Themselves. Their costar Ciara Bravo. Victoria Justice. Ariana Grande. Elizabeth Gillies. The How To Rock Cast. and more. In March 2012 Big Time Rush co-hosted MTV's 10 on top.
The group is currently writing and recording new songs for their third album. Their single "Windows Down" was released on June 25 2012. With its success, the song peaked at 37 on the US Pop Songs and 15 on the US Heatseekers Songs.[6] The song then debuted at 97 on the Billboard Hot 100.[7] It was included on a re-release of the group's second album Elevate. It has also sold over 120,000 digital units as of August 4th 2012. it has been certified silver in the united states by the RIAA for denoting over 100,000 sold downloads.
The music video was filmed in Maui Hawaii and was released on June 22 three days before the single's iTunes release. Within 24 hours the music video shot to #2 on the iTunes music video charts second to Katy Perry's Wide Awake. It has since dropped to #3, third to Call Me Maybe which it overtook earlier that week. On August 6 2012 Nickelodeon renewed the Big Time Rush series for a 13-episode fourth season with production starting at the start of 2013. The Band also released a song titled "Like Nobody's Around" for the new season. It's on the new album. On April 15 in an interview on Cambio, Big Time Rush announced that "24/Seven" will be released sometime in early June 2013 and that the fourth season of "Big Time Rush" will air on May 2 2013. On April 20 nine tracks from the album (Plus Song For You without Karmin's vocals and Get Up with only Kendall's Vocals) were leaked. On June 4, EW released the full 10 standard edition songs of 24/Seven online. The Deluxe version of 24/Seven has also been leaked on YouTube with a different version of "Love Me Again" that was posted accidentally by Carlos. 24/Seven was released on June 11 2013 and revealed the album cover and track list on April 29 2013. On July 3 2013 24/Seven was certified Gold in Mexico for shipping over 30,000 copies. It is currently still the number one album in Mexico, and the fastest-selling pop album of 2013.
Artistry
Musical style and themes
Since the group is associated with the TV series and the children network Nickelodeon they have been presented as a "child-friendly" group but have musical differences. While reviewing their first studio album BTR Jessica Dawson from Common Sense she stated "Big Time Rush is a standout not only because of their boyish charm and good looks but because their music is a cool blend of synth-pop hip-hop and boy-band harmonies."[8] The music found on BTR is mainly pop and R&B. The music found on the album is child-appropriate as it serves as not only their debut album but the soundtrack to their self-titled series.
Their second studio album Elevate presented a more dance-oriented song along with general pop music and R&B.
Success and public image
Carlos Pena Jr. was interviewed September 2012 and talked about if Big Time Rush could exist outside of their Big Time Rush (TV show) where he replied;
"I think the music could stand alone, but I don't know if it would be as powerful. The show has definitely been our main audience. We have four million kids watching. So when you put a song out, four million kids hear it. When you put a song on the radio, you're not going to have four million people listening. It's a blessing and a curse being on Nickelodeon — it's gotten us where we are now, though some people are standoffish to us because of that. But we have to be grateful that Nickelodeon gave us this opportunity. Abandoning the show would not be the best idea."[9]
He was then asked about the ending of the series where he replied "This probably is going to be our last season. We have done almost 100 episodes which is great. But yeah the goal is for the music to carry on — and for us to do other ventures."[9] They were also asked about this with JustJaredDJ and they said "[BTR] We're going to be a band as long as our record label allows us to [...] We're dedicated to BTR until the very end and we don't even know when that is." Amanda Ash from Edmondson Journal said "While teens weave and wobble through adolescence plastering posters of boys with side-swept hair on our walls it seems as though boy bands like Big Time Rush too must take life as it comes. Sure, it might mean functioning as a hinge on a musical machine cranking out singles in exchange for dollar signs but artists learn and grow too. Big Time Rush is just another mandatory rung the quartet must climb."[10]
With their success the group have been compared to recent boy bands such as One Direction and The Wanted. However in most reviewers Big Time Rush have been divided with positivity and negativity from onlookers. However recent boy bands including One Direction and The Wanted have also not received rave outcomes.[11] Michael O'Connell from The Hollywood Reporter said "One Direction is but one group in this resilient and timeless fad. They follow the recent success of fellow Brits The Wanted and Nickelodeon's cross-market creation Big Time Rush. One [One Direction] is fluke. Two [The Wanted] is a coincidence. And three [Big Time Rush] is a trend that you want to father your unborn children.'[12] In August 2012, the group were voted the Best Boy Band in the World, with over 800,000 votes casted on them.[13][14] Melinda Newman from Washington Post stated "In the grand tradition of boy bands, these acts share certain traits with their similarly manufactured pop ancestors: Members of The Wanted and Big Time Rush auditioned for their parts at a casting call. The members of One Direction were put together by Simon Cowell after trying out individually for the British edition of "The X Factor.""[11] However, she positively compared them to The Monkees by saying "Big Time Rush is similar to the Monkees with its own TV series as a launchpad, and the group appeals to kids and tweens."[11]
To date Big Time Rush has sold over 4 million records worldwide. they are also one of the most popular boy band's in the 21st century.
Plot of the Show
The story revolves around four ordinary guys who love hockey Kendall Knight (Kendall Schmidt) James Diamond (James Maslow) Logan Mitchell (Logan Henderson) and Carlos Garcia (Carlos Pena Jr.). James dreams of becoming a star and jumps at the chance to audition when famous music manager Gustavo Rocque is in town. But when all four guys end up auditioning Gustavo dislikes James' singing and instead wants to sign Kendall. Kendall agrees as long as his friends can join him the four of them making up a boy band. They move to California with Kendall's mom and little sister where they attend Palm Woods School, a special high school just for actors. singers. and other performers. The boys routinely conflict with the overbearing, hard-driving Gustavo and his well-meaning assistant Kelly, while trying to impress Gustavo's boss Griffin so that they don't lose their chance at success.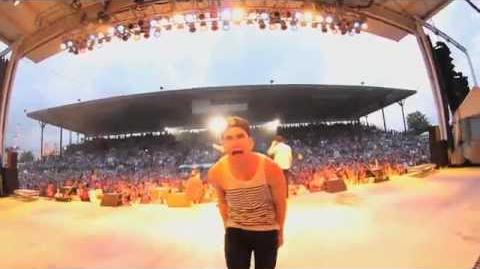 Meanwhile Mrs. Knight helps keep the boys in line and even more so, her conniving mischievous daughter Katie. The four teens often help out Tyler a young boy whose mother is obsessed with his acting career and sometimes hang out with Guitar Dude and actress-wannabe Camille. They also repeatedly (and often unsuccessfully) attempt to get dates with various female classmates including the Jennifers, and Jo who was Kendall's girlfriend until she moved to New Zealand for 3 years. But then she came back
When new episodes premiere they will air on Thursday nights at 8:00/7:00c on Nickelodeon.
Discography
Studio Albums
Extended Plays
Awards and Nominations
Big Time Rush Band
Year
Award
Category
Recipient(s)
Result
2010
2010 Australian Kids' Choice Awards
Fave International Band
Big Time Rush
Nominated
2011
2011 Kids' Choice Awards
Favorite Music Group
Nominated
2011 Australian Kids' Choice Awards
Hottest Guy Hottie
Nominated
Kids' Choice Awards Mexico
Favorite International Artist
Won
Kids' Choice Awards Argentina 2011
Favorite International Singer
Nominated
Favorite Song
Boyfriend
Won
MTV Europe Music Awards
Best Push
Big Time Rush
Nominated
Youth Rocks Awards
Rockin' Group of the Year
Nominated
MTV Breakthrough Band
Favorite Breakthrough Band
Won
2012
2012 Kids' Choice Awards
Favorite Music Group
Won
Kids' Choice Awards Mexico
Favorite International Artist
Nominated
Kids' Choice Awards Argentina 2012
International Artist or Group
Won
Otto Awards
Best Pop Band
Won
Hollywood Teen TV Awards
Favorite Music Group
Won
Pop Crush Music Awards
Video of The Year
Windows Down
Won
Premios Telehit
Artist Popular
Big Time Rush
Nominated
Best International Pop Band
Nominated
Z Boy Band Awards
Best Current Boy Band
Nominated
2013
2013 Kids' Choice Awards
Favorite Music Group
Nominated
Premios Oye!
Best International English Single of The Year
Boyfriend
Won
2013 Bravo Otto Awards Germany
Best Global Band of 2013
Big Time Rush
Won
Favorite Internet Superstar of 2013
Nominated
2013
Teen Choice Awards 2013
Choice Music Group
Big Time Rush
Nominated
Big Time Rush Tv Show
Year
Award
Category
Recipient(s)
Result
2010
2010 Australian Kids' Choice Awards
Fave TV Star
Big Time Rush
Nominated
Casting Society of America
Outstanding Achievement in Casting - Children's Series Programming
Tara-Anne Johnson
Carol Goldwasser
Sharon Chazin Lieblein
Howard Meltzer
Geralyn Flood
Nominated
2011
2011 Kids' Choice Awards
Favorite TV Show
Big Time Rush
Nominated
2011 UK Kids' Choice Awards
Nick UK's Favourite Show
Big Time Rush
Nominated
2011 Australian Kids' Choice Awards
Fave TV Star
Big Time Rush
Nominated
Young Artist Awards
Best Performance In A TV Series - Guest Starring Young Actor 18-21
Thomas Kasp
Nominated
Best Performance In A TV Series - Recurring Young Actor Ten and Under
Tucker Albrizzi
Nominated
Best Performance In A TV Series - Recurring Young Actress 17-21
Erin Sanders
Won
Youth Rocks Awards
Rockin' Ensemble Cast (TV/ Comedy)
Big Time Rush
Nominated
Kids' Choice Awards Mexico
Favorite International Show
Big Time Rush
Won
Kids' Choice Awards Argentina 2011
Favorite International TV Show
Big Time Rush
Nominated
Meus Prêmios Nick Brasil
Favorite TV Show
Big Time Rush
Nominated
2012
Young Artist Awards
Best Performance In A TV Series - Supporting Young Actress
Ciara Bravo
Nominated
Best Performance In A TV Series - Guest Starring Young Actor Ten and Under
Tucker Albrizzi
Nominated
Best Performance In A TV Series - Recurring Young Actress 17-21
Erin Sanders
Won
Kids' Choice Awards Mexico
Favorite International Show
Big Time Rush
Nominated
Kids' Choice Awards Argentina 2012
Favorite International TV Show
Big Time Rush
Nominated
Hollywood Teen TV Awards
Favorite Television Actor
Kendall Schmidt
Nominated
2013
2013 Kids' Choice Awards
Favorite TV Actor
Carlos Pena
Nominated
2013
2013 Kids' Choice Awards
Favorite Music Group
Big Time Rush
Nominated
Trivia
Official Account
References
Gallery