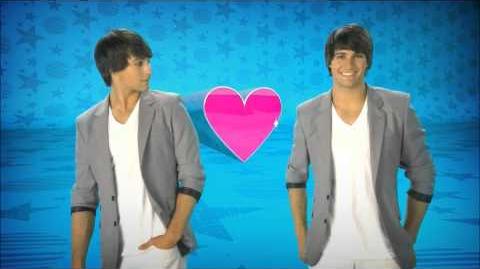 Big Time Invasion is the 1st episode of Season 4 of Big Time Rush and the 62nd episode overall. It premiered on May 2, 2013.[1]
Plot
The new British band "invade" the music business, and Big Time Rush are afraid they are going to end their career. To save their career, they decide to hire new managers, but disagree on who they are going to take, so Kendall and Carlos go with the first and James and Logan with the second. At the end, they understand that they have to do their job "Like Nobody's Around" and sing that song. Meanwhile, Katie is trying to find a best friend to talk about boys, but Mr. Bitters has turned The Palm Woods into a businessmen living place, so along with Buddha Bob they try to kick them out.
Guest Stars
J.P. Manoux as Mitchell Gold
Gavin DeGraw as Himself
Jon Stewart
One Direction
The Wanted
Song Featured
Quotes
Carlos: We've got to stop the invasion...
James: You know it's a spitball fight, not an alien invasion.
Carlos: Can I just play the way I want to?
James: Fine.
Katie: I just walked into a music video moment, didn't I?
Trivia
The first table read for this episode was on January 3, 2013.
The guys started filming on January 7.
Jo and Camille appeared in this episode.
They finish recording this episode on January 11, 2013.[2]
The episode was scheduled to aired on March 23, 2013 [4] after the KCAs but it was replaced by Monsters Vs. Aliens. Nickelodeon: "We don't have a solid premiere date yet to announce for BTR, we'll be sneak peeking Monster vs Aliens right after the KCAs."[5]
In an interview with Eurweb, Challen Cates (Mrs. Knight) announced:"In April, 2013 Nickelodeon's #1 live-action musical-comedy "Big Time Rush" returns for a fourth season."
This episode started "Big Time Thursday" since every episode of Season 4 aired on Thursday. "We are calling it Big Time Thursdays and will have new episodes EVERY Thursday!"[6]
This is the second time since Big Time Songwriters that James stated that Carlos always takes Kendall's side.
James and Logan never actually got to meet Gavin DeGraw.  Despite being in a scene with him. [3]
This show's music video makes references to five different bands, NSYNC (1995), The Jackson 5 (Featuring Micheal Jackson (1964), The Temptations (1960), The Backstreet Boys (1993), and New Kids On The Block (1984). But seeing as all of these bands were long before Big Time Rush's time, younger BTR viewers will not understand the referances.
Running Gags
Every time BTR walks in, Kendall's mom is dancing to a Big Time Rush song.
Throughout the episode, the guys throw spitballs.
Every time Logan & Carlos do something, spitballs appear.
Every time Jo and Camille ask the boys if they would go to the pool with them, their answer is "Not a good time, ladies..."
Buddha Bob spraying wasp spray on people.
Gallery
References
Community content is available under
CC-BY-SA
unless otherwise noted.