This article needs some clean up, please help by editing it and making it better thanks!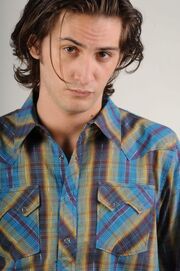 Barnett O'Hara is a model, musician and actor.
Barnett O'Hara did a stint modeling at one time and was the ambassador/face of Foot locker Europe. As a youngster, he studied stage acting in New York City and had his first lead role in a local production of Cabaret.
One of his first roles ever on the big-screen was in Pirates of the Caribbean: At World's End (2007), where he had a bit part; actually it was an uncredited role where his hand stood in for Johnny Depp's character Jack Sparrow. But that led to a speaking part in a film called Hard Breakers (2010) and a semi-regular role as the "Guitar Dude" during the the past three seasons of the TV series Big Time Rush. He's also worked on another couple of roles, My Trip to the Dark Side and next year's My Trip Back to the Dark Side.
In addition to his acting roles, Barnett also is a guitarist for a punk-rock band named Division 623.
"Finish your rapping!"
This article is a stub. You can help the Big Time Rush Wiki By expanding it! Thanks!!
Community content is available under
CC-BY-SA
unless otherwise noted.